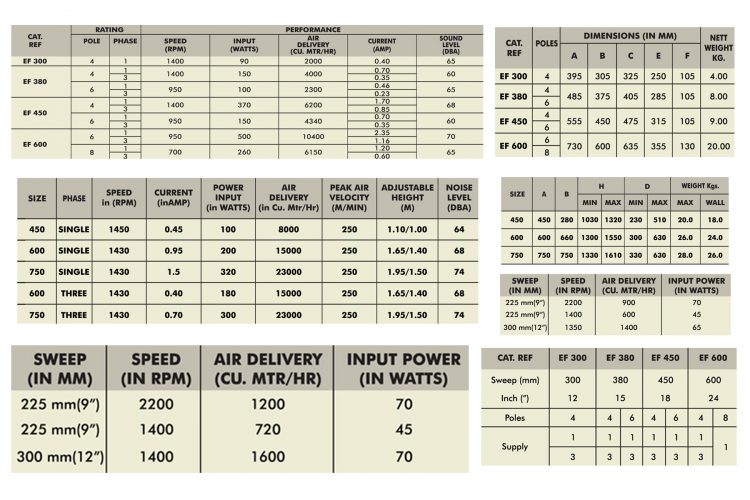 EXHAUST FAN
universal_group123 August 2, 2018
DOMESTIC EXHAUST FAN
Our range of exhaust fans to ensure a wonderful feeling of freshness whenever and wherever you need! Our exhaust fans operate silently, adhere to uncompromising standards, provide fresh and healthy conditions even in the most adverse conditions.These fans are the perfect choice for eliminating heat, fumes and unpleasant odours in order to provide total comfort and health in your homes and workplaces.
PREMIUM DOMESTIC EXHAUST FAN
A continuous duty, double ball bearing, hub design, domestic fresh air/exhaust fan
Sweep: 225mm, 300mm
Bird screen for protection against birds and foreign matter
Reversible version is available from exhaust to fresh air mode
CLASSIC DOMESTIC EXHAUST FAN
3 blades light duty economically designed domestic exhaust fan
Suitable for continuous running
Ideal for small living rooms and enclosed work places
Die cast aluminium body
Fitted with 2 self-aligned bush bearings for smooth operation along with bird guard for safety.
Classic models are also available in Hub Design blades for economical options.
HEAVY DUTY EXHAUST FANS
Designed to effectively combat pollution, our exhaust fans quietly draw away smoke, odours, dust, dampness and stale air, thus allowing breeze of fresh air into the environment. These fans perfectly compliment the breeze of ceiling and desk/wall fans by providing a comfortable atmosphere inside with a constant supply of healthy fresh air.
Reversibility by change of blade mounting Metal frame with rubber mounting for silent operation
Al-extruded section motor body for higher heat dispersion area to control the temperature rise within motor body
Heavy duty, totally enclosed, energy efficient and 2 ball bearing induction motors
Precisely balanced aerodynamically contoured metal blades with die cast aluminium spider/hub
Long lasting Epoxy powder coating Generally conforming to IS: 2312 – 1967
Power supply: 220/250 V, Single Phase 50/60 Hz; 380/440 V, Three Phase 50/60 Hz;110 V, 50/60 Hz (optional)
HEAVY DUTY AIR CIRCULATOR FANS
A robust and heavy duty oscillating type propeller fan comprises of aerodynamically designed three blade aluminium press die cast impeller, sturdy close-mesh guard, energy efficient motor in an epoxy powder coated finish in metallic shades.
Features:
Aerodynamically designed blades for higher air delivery and minimum noise level
Dynamic balancing of blades
Adjustable height for pedestal model
Index-able to different positions up to 360 degrees and oscillation to 85 degrees for total exibility
Option to get sturdy finger proof brazed wire
Powder coated guard
Robust base to ensure absolute stability
Power consumption limited to bare minimum
Generally confirming to IS: 2997-1964
Specifications:
Fan Sweep: 450 mm (18″), 600 mm (24″), 750 mm (30″), 900 mm (36″)
Fan Motor: 4 pole (standard), 6 pole (optional); 1 phase cap start and run
or 3 phase induction motor
Power supply: 220/250 V, Single Phase 50/60 Hz; 380/440 V,